Clipsal Iconic 3000 Switches & Power Socket Product Reviews
By Clipsal 5 October 2017
Clipsal Iconic™ is a modern electrical accessories range, based on a slim, sleek, clean design that is easy to customise and blends in with your environment.
Clipsal's latest range is loaded with clever features and benefits like new game changing modular mechs and grids with changeable skins and dollies for unrivalled customisation now and in the future.
Clipsal Iconic – next generation wall switches and sockets that give you more options than ever before.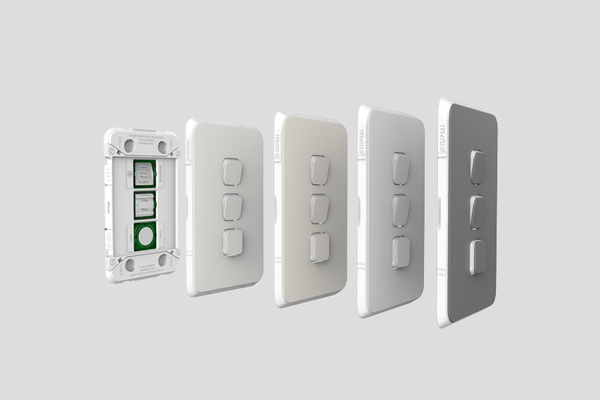 A range of skin colours Clipsal Iconic™ offers unlimited flexibility to suit any interior design, with standard white skins, plus subtle colour variants that blend in with background wall colours.
Changeable skins Clipsal Iconic grids and skins can be ordered separately. Innovative protective flaps help prevent screw access after installation, allowing skins to be changed safely at any time. That means, if a customer ever changes their mind, or would like skins of a new colour or style, they can change them by themselves any time they like.
Colours that blend in Clipsal Iconic offers three skin colour variants in addition to the standard Vivid White. Warm Grey is subtle and inviting, evoking relaxation with its sandy tones. Cool Grey is crisp and clean, enhancing cooler tones. Anthracite is deep and strong to blend in with richer, deeper wall colours.
Pictograms highlight functions Clipsal Iconic has the option to personalise switches with icon dollies to make it easy to identify functions in multi-gang switches. You simply click out the plain dollies from the skins, and replace with pictogram dollies. There is a pictogram for a wide range of functions.
Product Links:
Power Outlet Socket
Light Switches
Dimmers
Skin Covers