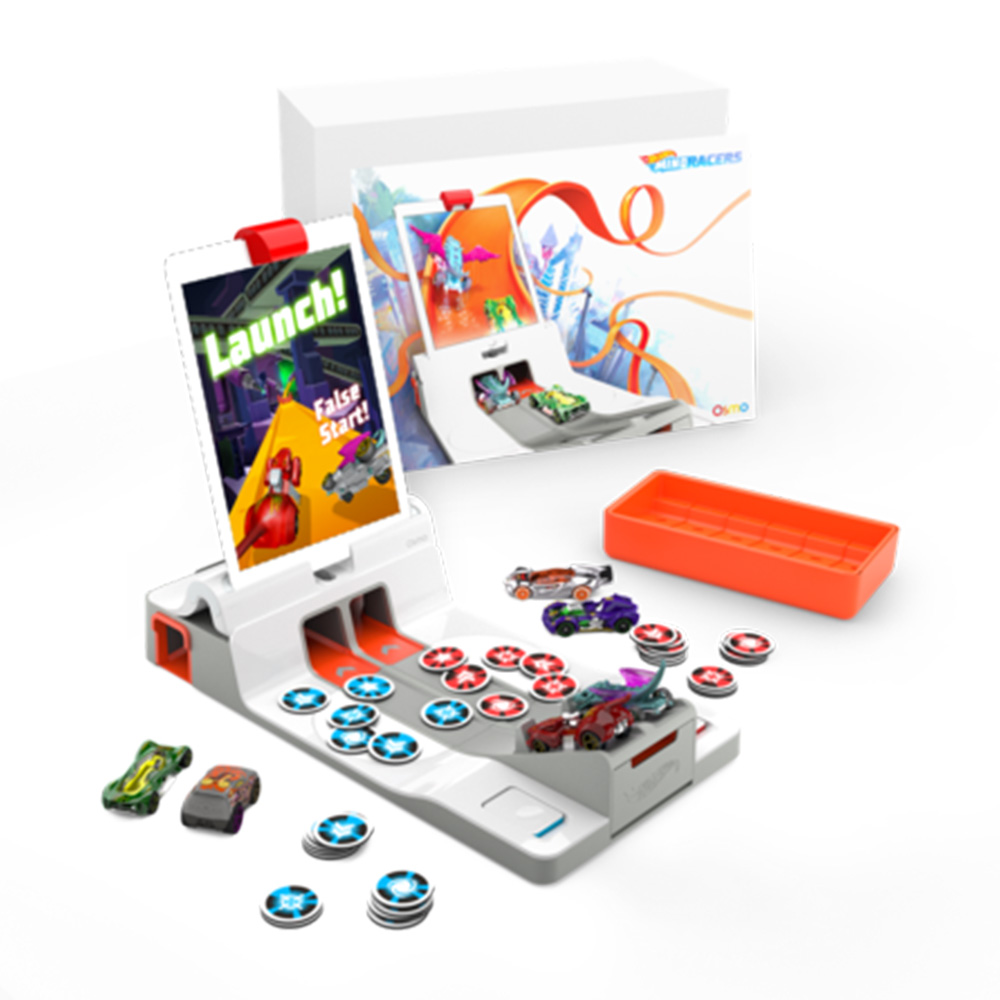 Launch real Hot Wheels??cars at the starting line, send them speeding down the ramp and ??ZOOM! ??/span>
you??e racing through amazing digital worlds.
Real Hot Wheels??cars race straight through the screen onto any of the eight different wacky digital racetracks.
Quick thinking and strategy will help you win the race.
Whether you play solo, race each other one-on-one in competitive mode,
or work together to win challenges in cooperative mode,
MindRacers is always ready to test your skill and daring.
Rev up your Hot Wheels??cars??engines at the starting line and
hit the accelerator to begin racing the high-speed competition on screen.
Your cars speed through amazing digital worlds,
on tracks that deliver unique thrills and challenges around every corner.
MindRacers comes with six Hot Wheels??cars that have
their own unique personalities and super automotive powers.
Strategies, anticipate and react for real-time results. Throwdown tangible tokens to control
your race car?? actions and beat the competition.
Each race is a new challenge for players??brains and reflexes.
MindRacers teaches quick, strategic decision-making, multi-dimensional awareness & real-world dexterity,
emotional intelligence & social fluency, and sportsmanship.
To play MindRacers on your iPad, just place the Osmo iPad Base on the included LaunchPad,
open the App (free download), place your car of choice at the start line and race on!
Osmo is an award-winning game system that will change the way children interact with the iPad.
It enables the iPad to merge the power of physical play with the digital advantages of real-time feedback.
Osmo is a ground-breaking system that encourages creative thinking and
social interaction by expanding gameplay beyond the screen!
Hot Wheels™ cars come to life in the thrilling MindRacers game
Learn real-world dexterity, quick strategic decision-making and sportsmanship
Comes with 6 Hot Wheels™ cars and tangible tokens
Race through 8 different worlds
Perfect for kids age 7 and up (and adults)
Built-in collaboration, allowing multiple players to race together or challenge each other
Easy to set-up
Includes stackable storage
MindRacers comes with Osmo Base and Mirror (reflector) and the MindRacers LaunchPad
Compatible with iPad 2/3/4, iPad Mini/2/3/4, iPad Air/Air 2, iPad 9.7" and iPad Pro 9.7"/10.5"
What's in the box:
MindRacers LaunchPad

Osmo Base and Mirror (reflector)

6 Hot Wheels™ cars

32 game tokens

Stackable storage

Game poster