Samsung SHS-P717 Smart Door Lock - Black | Password | RFID | Key
Product Information
This item is discontinued by the manufacturer.
Own it now, pay later
Samsung digital door lock SHS-DP717 is push & pull handle type smart door lock. It has a number pad, RFID card, RFID tag, and override key as door unlock access methods. With the equipped IR sensor, the lock automatically wakes up once it detects you. Samsung SHS-P717 has user-friendly interface that automatically notifies users on the lock status, displaying messages such as 'Locked' and 'Unlocked'. This lock has a flexible 31 users using both PIN Code and RFID Key Tags.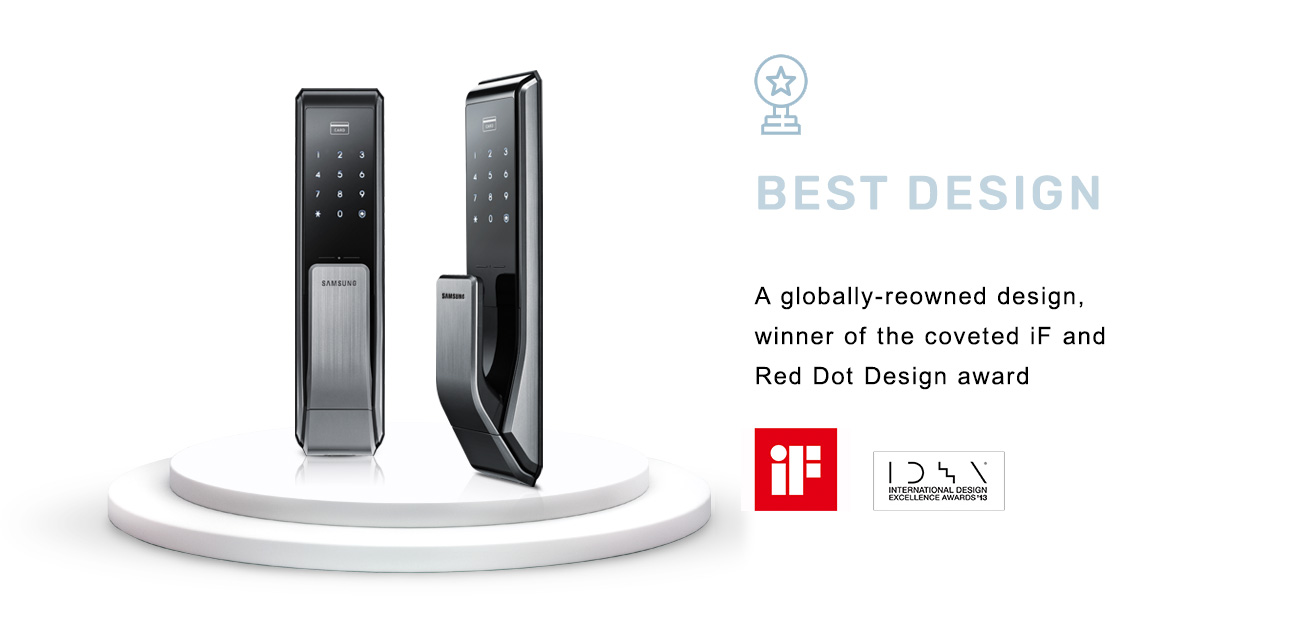 The SHS-P717 is one of Samsung's newest models, with innovative handle and mortise design. This offers an entry level into our Push Pull range with a slimmer design than the P718. If you or a loved one has ever been locked out of the house, going keyless is a simple decision. No more keys to hide, or get cut and copied. Giving access to trades, guests, or friends has never been easier. It's 130 user capacity allows you to register multiple users each with their own code or Samsung KeyTag or SmartTag.
A new install can be completed on a 38mm thick door with a minimum of a 115mm lock stile. This lock is universally handed for left or right-handed installations. Automatic locking allows you to feel secure whenever you leave the house with the door locking behind you whenever you go out. This can also be set to manual if you're in and out of the house frequently. Our products come complete in the box with all the parts you'll need including 8 AA batteries, 2 Samsung KeyTags to register, and 5 mechanical backup keys.
Keyless entry for up to 30 users by PIN or KeyTag.
Long battery life from 4 x AA batteries - 12 months over 10 entries per day.
2 x Samsung KeyTags, 5 Mechanical backup keys, and batteries included.
Innovative & Easy to use Push Pull handle.
Always secure with auto-locking function.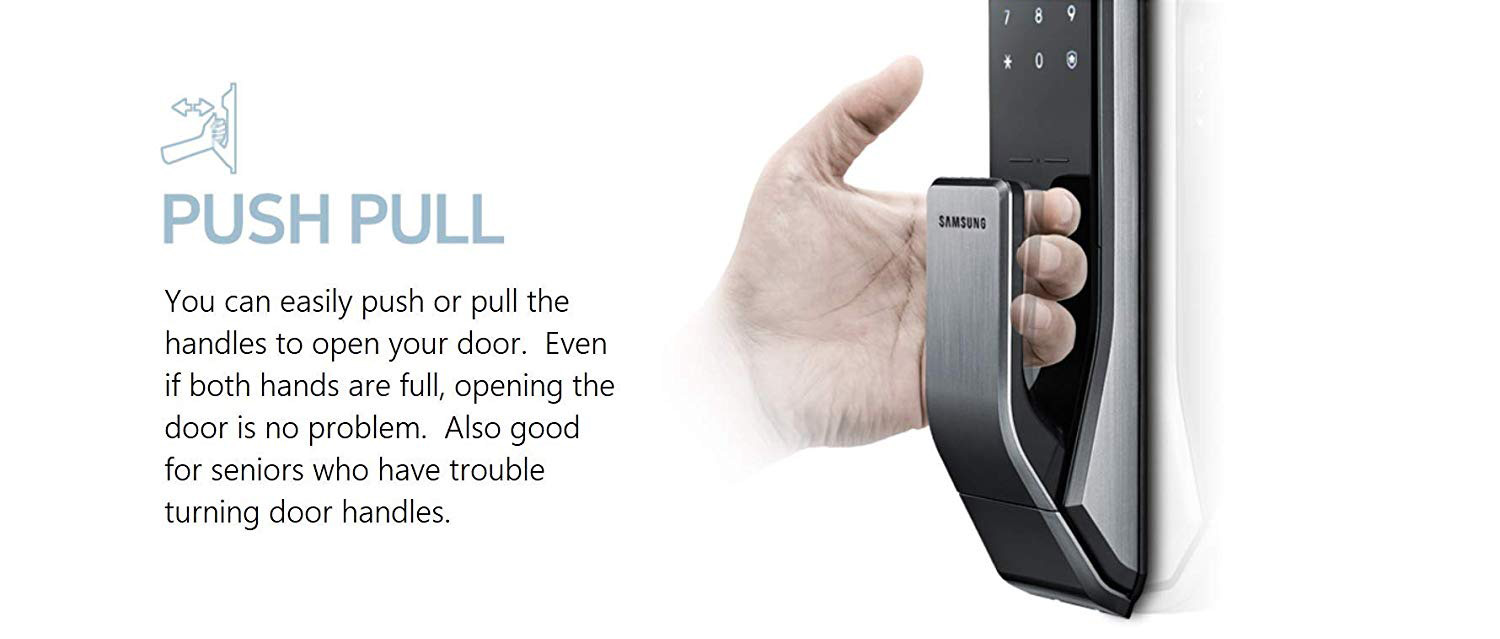 Convenient Opening

Easy push/pull handle access

Welcome Function

When a user gets close to the door lock, the authorization standby mode will automatically activate.

Silent-Mode Function

When going in or out, the sound of the key entering and door opening will be suspended.

Automatic Card Reading Function

When a card touches the reader,

the reader will conveniently recognize the card.

Double Authorization

Requires card & password combination to open.

Security Assurance Function

When someone is inside the house, authorization for entry from the outside will be prohibited.

Built-in Fire Detection

Generates alarm in case of a fire

Security Function

Prevents intrusion from the outside
Brand: Samsung
Item Model Number: ‎SHS-P717
Max User Memory: 31 pin/RFID
Door Thickness: From 40mm to 80mm
Lockset: Push pull handle, mortise
Lock Material: Zn, Al, ABS
AML220: Small mortise with shorter bolt set, door modifications most likely necessary
Battery Life: 12 months at 10 uses per day
Battery Type: 8 AA alkaline batteries
Lock Size:

Exterior: 3.3 x 13.6 x 2.4
Interior: 3.4 x 14 x 2.5 inches (WxHxD)

Item Weight: ‎3.05 kg
Operating Temp: -25°C to +60°C
Water and dust resistant