Samsung SHS-P718 Smart Door Lock - Silver | Fingerprint Unlock
Product Information
This item is discontinued by the manufacturer.
Own it now, pay later
The Samsung SHS-P718 has all of the top of the line features available including fingerprint entry and our new patented hardware designs. A new install can be completed on a 40-60mm thick door with a minimum of a 115mm lock stile. This lock is universally handed for left or right handed installations. If you or a loved one has ever been locked out of the house, going keyless is a simple decision. No more keys to hide, or get cut and copied.
Use your finger to open the door, with our 100 user capacity fingerprint sensor. Giving access to trades, guests, or friends has never been easier. It's 30 user capacity allows you to register multiple users each with their own code or Samsung KeyTag or SmartTag. Automatic locking allows you to feel secure whenever you leave the house by locking behind you whenever you go out. This can also be set to manual if you're in and out of the house frequently.
Samsung digital door lock SHS-P718 is push-pull handle type smart door lock with a fingerprint. It has a fingerprint, number pad, RFID tag, RFID card, and override key as door unlock access methods. It has a user-friendly interface that notifies the user about lock status either locked or unlocked. With the equipped IR sensor, the lock automatically wakes up once it detects you.
Long battery life from 4 x AA batteries - 12 months over 10 entries per day
2 x Samsung KeyTags, 5 Mechanical backup keys, and batteries included
Keyless entry for up to 100 fingerprints or 30 users by PIN or KeyTag
Always secure with auto-locking function
Innovative and easy to use Push Pull handle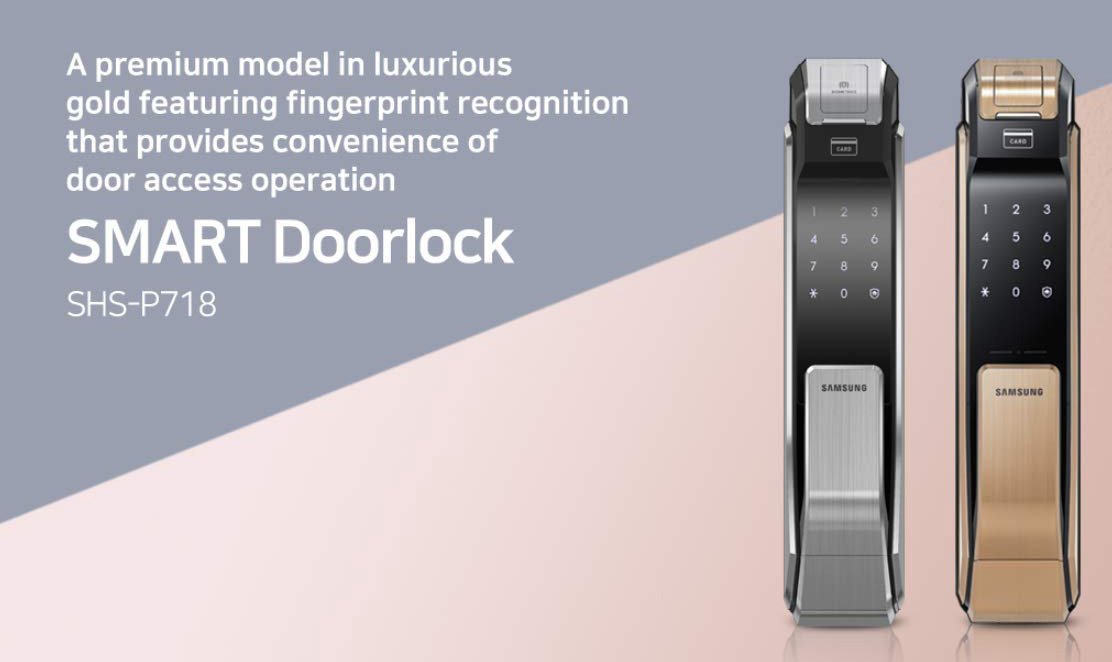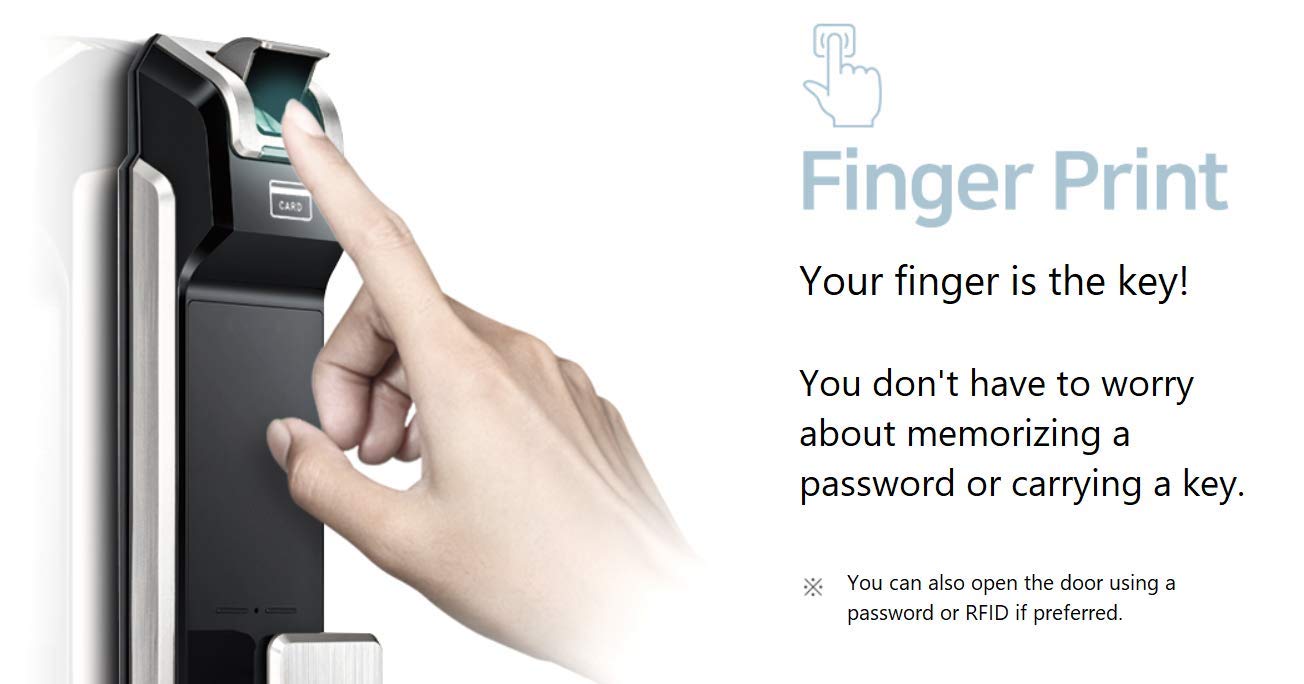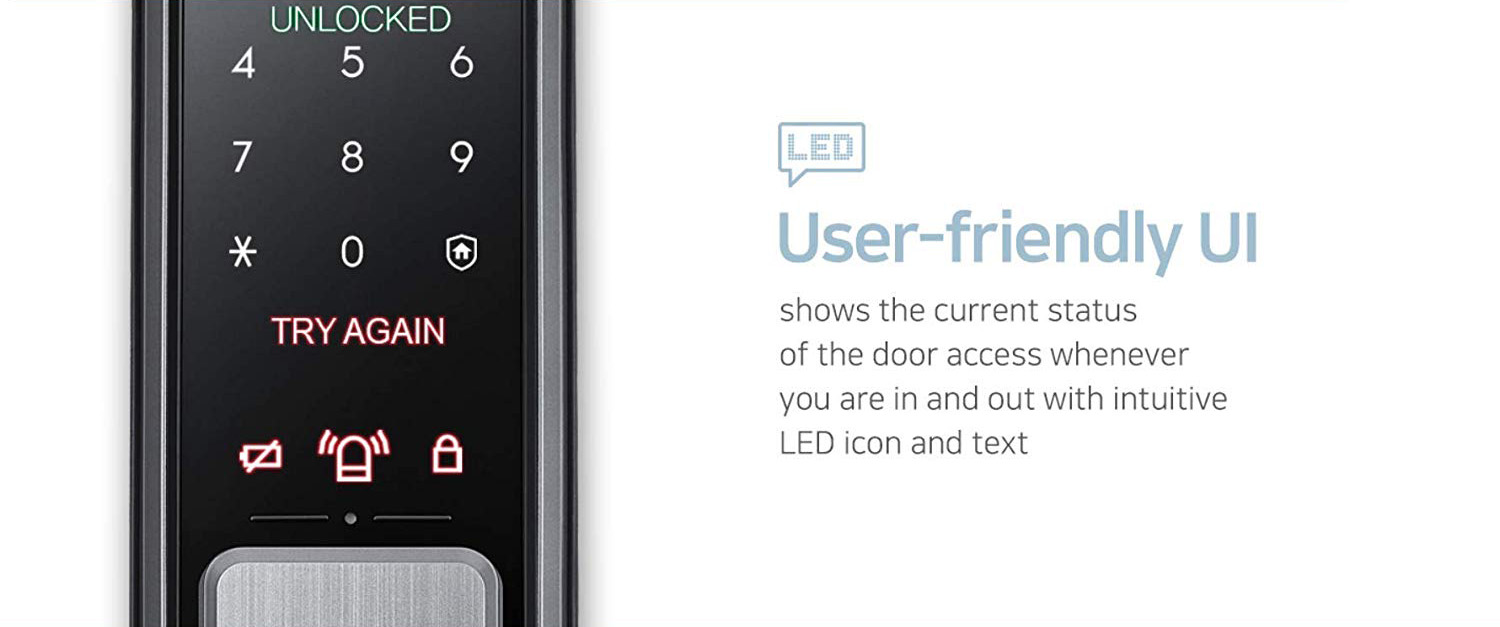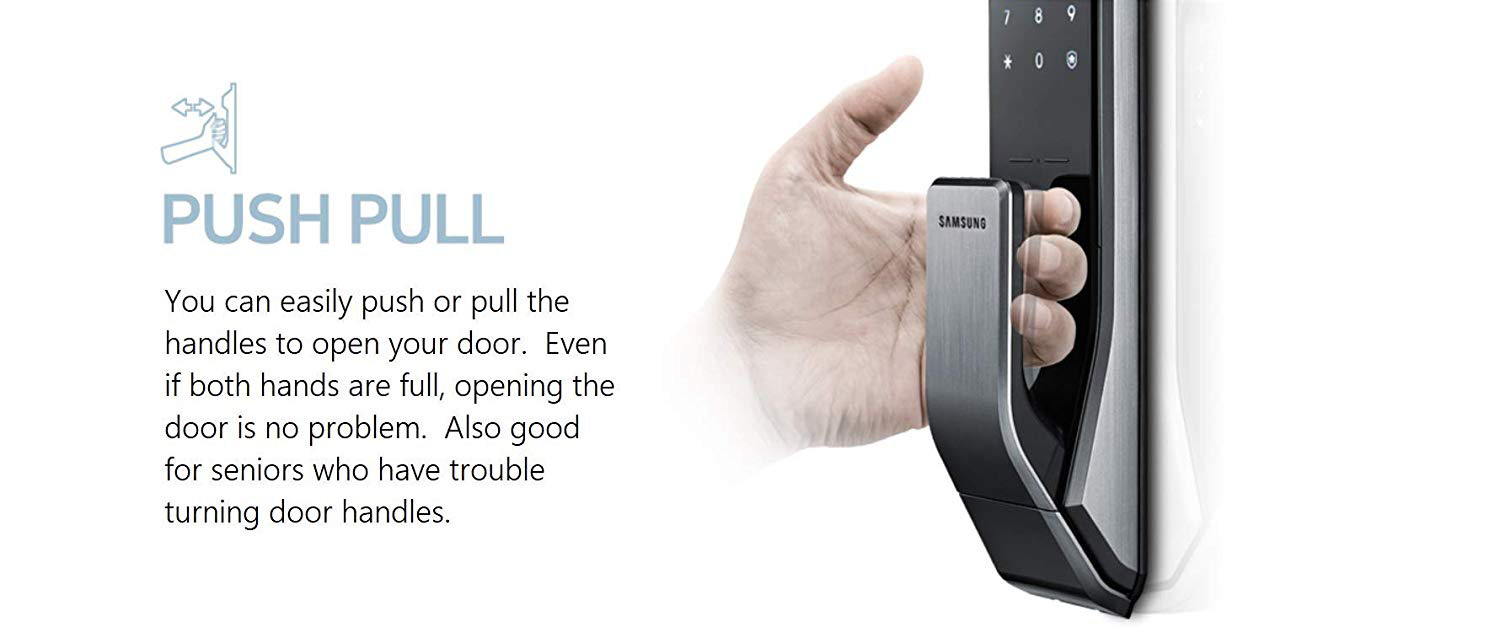 Convenient Opening

Easy push/pull handle access

Welcome Function

When a user gets close to the door lock, the authorization standby mode will automatically activate.

Silent-Mode Function

When going in or out, the sound of the key entering and door opening will be suspended.

Automatic Card Reading Function

When a card touches the reader, the reader will conveniently recognize the card.

Double Authorization

Requires fingerprint & password combination to open

Security Assurance Function

When someone is inside the house, authorization for entry from the outside will be prohibited.

Built-in Fire Detection

Generates alarm in case of a fire

Security Function

Prevents intrusion from the outside
Model Name: SHS-P718
Model Number: SHS-P718
Material: Zinc, Aluminium, Polycarbonate
Colour: Silver
Product Dimensions: W:85 H:387 L:61 (MM)
Package Dimensions: W:318 H:450 L:108 (MM)
Weight: 4.3kg
Power: DC 6V (AA Alkaline Batteries)X8
Battery Life: Approximately 12 months (Average – 10 times per day)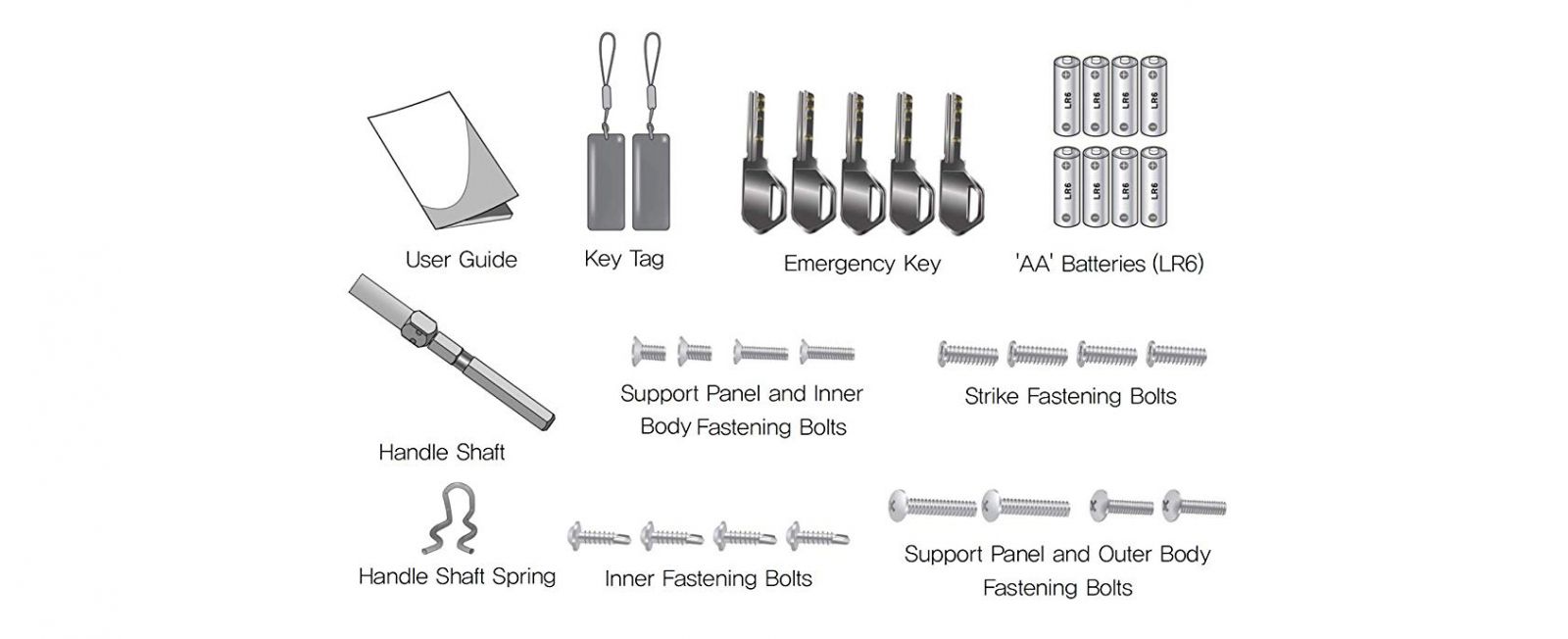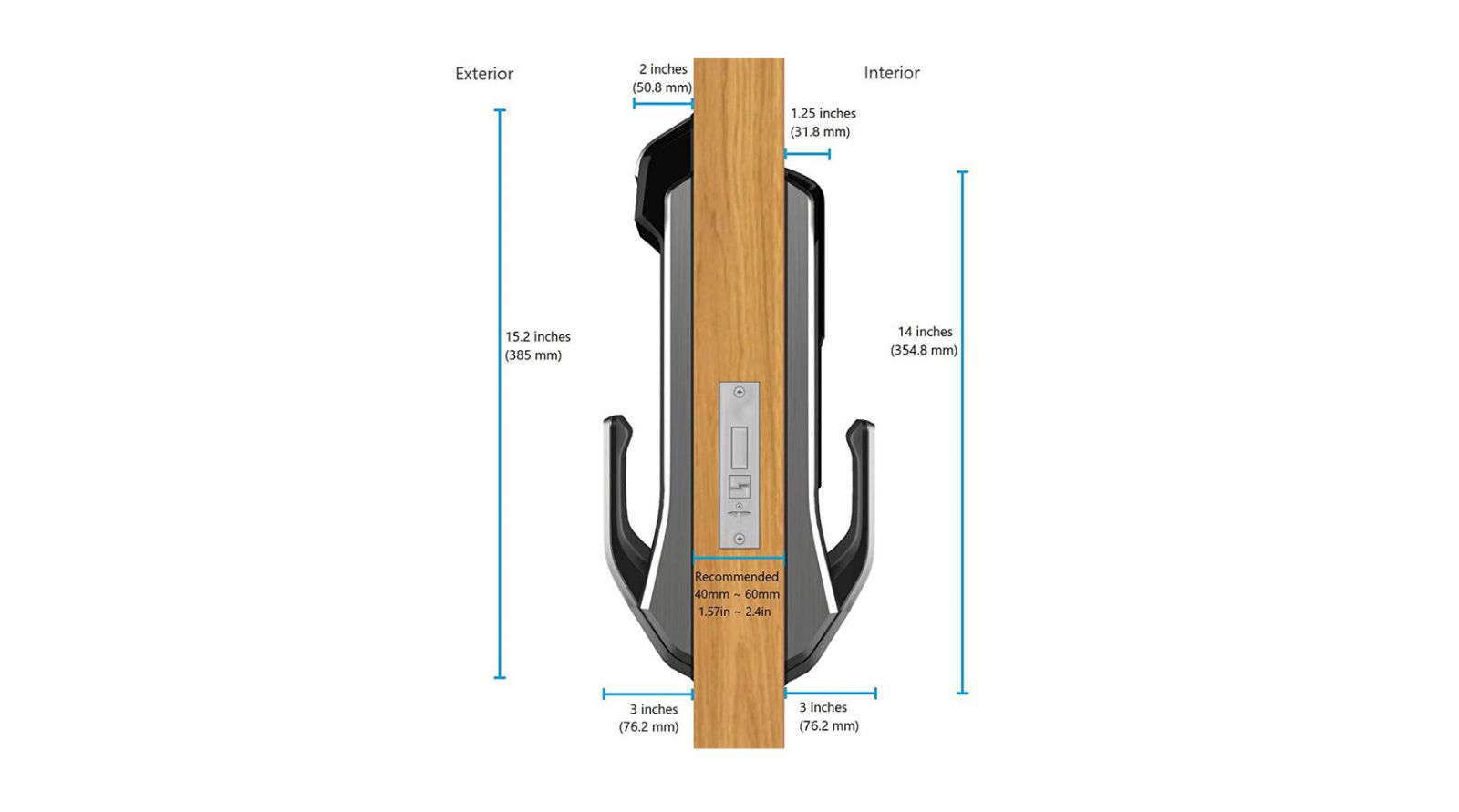 Warranty Info
2 Year – Return to Base warranty on Parts
Installation Info
Professional installation recommended
Left and right handing (universal)
Door fitting minimum
38mm Door thickness
115mm Minimum lock stile
70mm Backset
32mm spade bit for top cut
60mm hole saw for bottom cut