Philips Hue Milliskin Extension Round Recessed Spotlight | White | White Ambiance
Product Information
This item is discontinued by the manufacturer.
Own it now, pay later
With the Philips Hue White Ambiance spot included in your Philips Hue system, you can enjoy natural white light that helps you to wake up, energise, concentrate, read and relax. A high-quality spot, built to last with attention to detail. Sometimes 5.5W Philips Hue White Ambiance Milliskin Recessed Spotlight is also called 25W spotlight because 5.5W of Philips hue of this spotlight is equal to the 25W of a halogen downlight bulb.
High-quality light with strong light output, providing plenty of white light for any moment or task.
With the battery-powered dimmer switch for Philips Hue, you can control the light of your white ambience lamps easily. Cycle through the four different light scenes by simply pressing the on the button, dim the light up or down and settle for ease of use. The dimmer switch can be placed anywhere in its small and elegant dock and needs no wiring. Use as a remote control or as a light switch against the wall and enjoy the right light recipe for every moment of your day. You can add up to 10 Hue lights to one dimmer switch.
Philips Hue can help you to customise your daily routines into moments that you can enjoy. Skip your morning coffee and get ready for the day with cool, bright-white daylight that helps to energise your body and mind. Stay focused with finely tuned bright-white light. Or put your feet up and relax with a soft glow of white light for the perfect end to the day.
Connect your Philips Hue lights with the bridge to unlock the endless possibilities of the system.
With the Philips Hue iOS and Android apps, you can control your lights remotely, from wherever you are. Check if you have forgotten to switch your lights off before you left home, and switch them on if you are working late. Connection with the Philips Hue bridge is required for this functionality.
Connect your Philips Hue lights with the bridge and start discovering the endless possibilities. Control your lights from your smartphone or tablet via the Philips Hue app, or add switches to your system to activate your lights. Set timers, notifications, alarms and more for the full Philips Hue experience. Philips Hue even works with Amazon Alexa, Apple Homekit and Google Home to allow you to control your lights with your voice.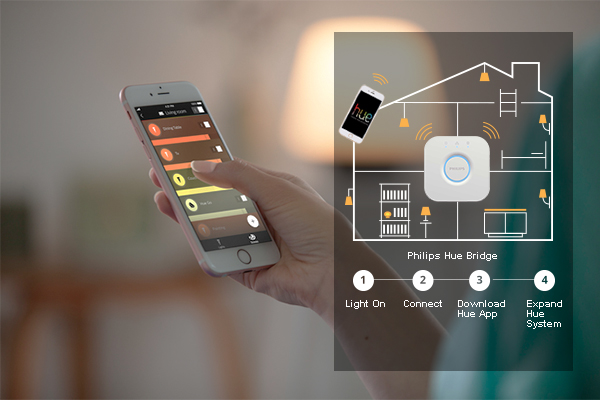 Model

5041131P8

Dimmable

Through Hue App or Hue External Dimmer(not included)

Input

Voltage

100-240V AC 50~60Hz

Output (Lumen)

250lm

Colour Temperature

2700K - 6500K

Cutout size

70mm

CRI

>80

Life Span

20000 Hours

Dimension

H14.4 x L14.2 x W7.7cm

Convert Plug

SAA Australian Plug

Beam Angle

45 Degree

Warranty

2 Years