Minimalist Bar Stool | Bended Iron Rods with Fabric Cover | 75 CM | Black Frame + Black Seat
In Stock Now
Product Information
This item is discontinued by the manufacturer.
Own it now, pay later
Minimalist Bar Stool | Bended Iron Rods with Fabric Cover
Minimalist Bar Stool features a simple yet elegant silhouette that will adhere to any stylistic home feel.
A great feature of minimalist bar stools is their effortless versatility.
Their subtle look means they don't detract from the focal point of the room but blend nicely into the background.
Choose between an array of colors for comfortable and Bended Iron Rods with Fabric Cover.
Our collection of minimalist stools are perfect for creating a simple and stripped-back look.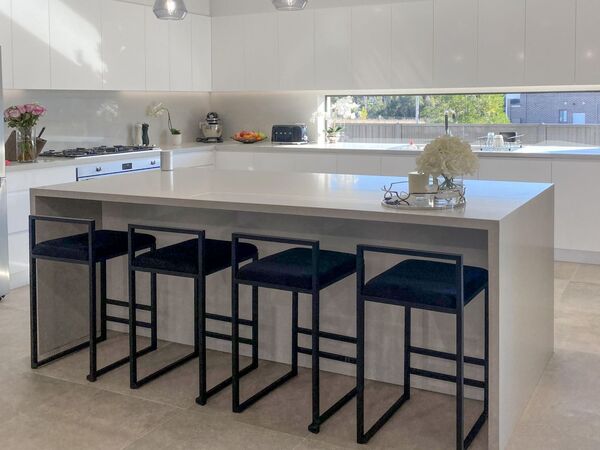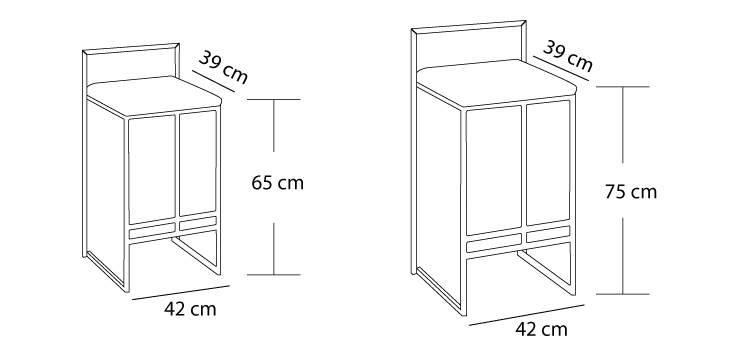 | | |
| --- | --- |
| Material - Frame | Iron Bar |
| Material - Cushion | High-Density Foam |
| Material - Cushion Cover | Fabric |
| Weight | 6.5Kg |
| Weight Capacity | 120Kg |
| Finish - Frame | Powder coated |
| Height (from floor to seat) | 65cm |
| Height (back support) | 80cm |
| Width | 42cm |
| Length | 42cm |
Q: What is the ideal height for a bar stool?
A: The ideal height for a bar stool depends on the height of your bar or counter. For standard Australian counters 85-100cm in height, a 65cm seat height stool is recommended. For a standard bar top (Commercial Bar) at 120cm, a 75cm seat height stool is preferred.
Q: Can I use this stool outdoors?
A: While it's primarily designed for indoor use, you can use it on a covered patio. However, prolonged exposure to the elements may affect its durability.
Q: Is assembly required?
A: These Minimalist stools come assembled, however, the protection layer of bubble wrap needs to be removed before use.
Q: Are these stools available for the leather finish cover?
A: Yes, you can contact our office for a customised cover finish in different colour leather options,
Q: Can I customize the frame colour?
A: The frame colour is avaliable in Black, White and Gold, as it is an integral part of the stool's design.
Q: Is this stool suitable for commercial use?
A: Yes, its sturdy construction and elegant design make it a great choice for commercial establishments, we offer a 2-year commercial replacement warranty.
Q: Can I check these stools before making the purchase?
A: Yes, we have display units in our Sydney showroom, please contact our sales team to orgnise a showroom visit.