Yale PIR Motion Sensor Camera - 852 | Wireless | Zigbee Technology
Add on component for the Yale Wireless Alarm kit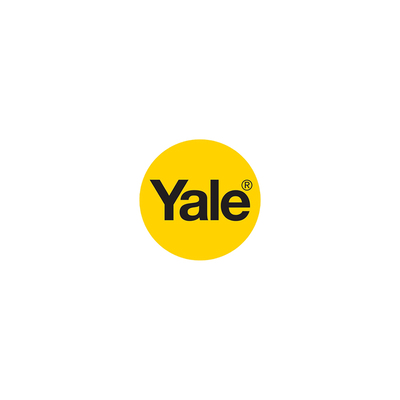 YALE-852-ULTRA is a ZigBee passive infrared (PIR) motion sensor camera. It is capable of sending wireless signals and captured images (picture quality of up to 640 x 480 pixels) to the coordinator in the ZigBee network upon movement detection.
The Yale PIR image camera enables you to see what movement has been sensed around your home, by taking a photograph and sending it to your iOS or Android device. Providing you with extra information about possible security breaches.During an alarm, the PIR image/video camera will send images/video to your phone. You can also manually request these images/video. Still images take an average of 15 seconds before showing on your phone, and video takes approximately 1 minute.
The PIR Camera is designed to give a typical detection range of 12 meters when mounted at 2 meters above ground. It consists of a two-part design made up by a cover and a base. The cover contains all the electronics, optics and camera, and the base provides a means of fixing. The base has knockouts to allow mounting on either a flat surface or in a corner. The PIR Camera also has tamper protections switch which will be activated upon any attempt of unauthorized cover opening.
The PIR Camera utilizes ZigBee technology for wireless signal transmission. ZigBee is a wireless communication protocol that is reliable and has low power consumption and high transmission efficiency. Based on the IEEE802.15.4 standard, ZigBee allows a large amount of devices to be included in a network and coordinated for data exchange and signal transmission. The PIR Camera serves as an end device in the ZigBee network. It can be included in the ZigBee network to transmit signal upon activation, but cannot permit any other ZigBee device to join the network through the PIR.
Yale PIR Image Camera is wireless and easy to pair with your Yale Home Alarm System*, allowing you to extend you system to tailor it to your individual needs. This accessory will activate the alarm when motion is detected, and send an image to your Smartphone. You can also request an image at any point and time via the Yale Smart Home Alarm App for ultimate peace of mind.
*Compatible with Yale SR- Smart Home Alarm Systems.
The Yale Alarm Kit is a home alarm system built with you in mind, allowing to arm and disarm your system via your Smartphone through the Yale Alarm App.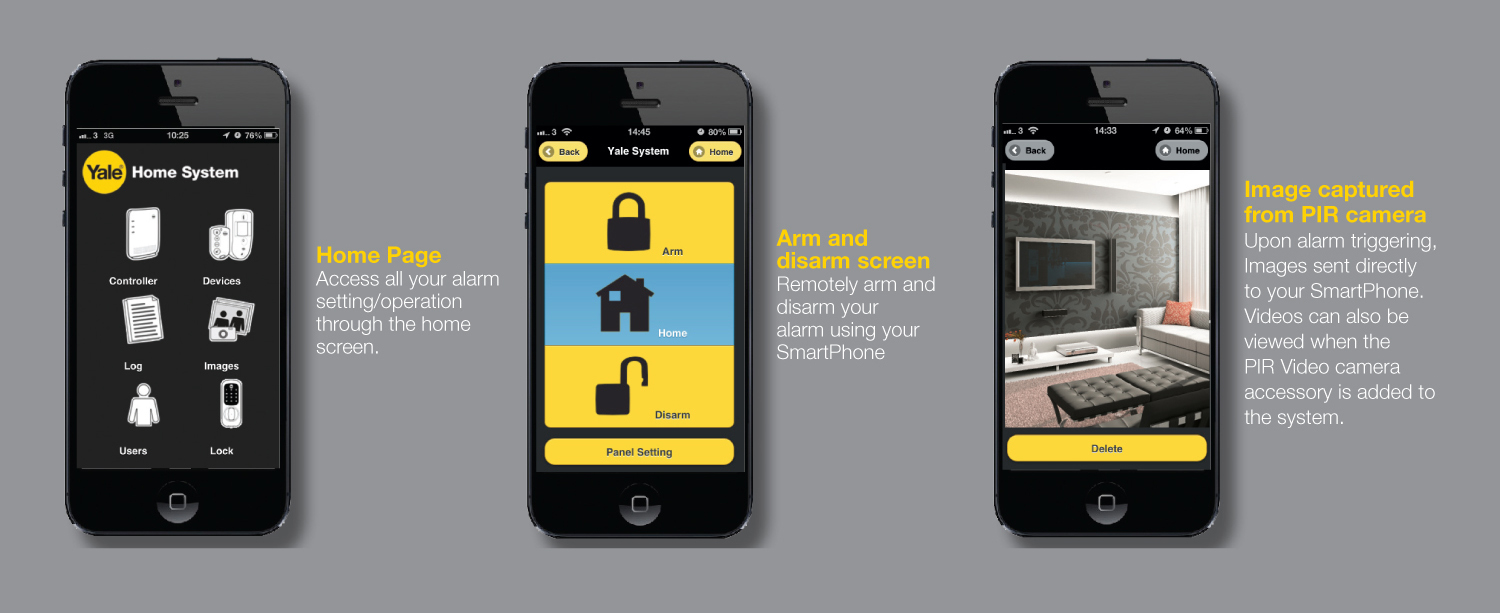 Download the Yale Smart Living Home (Playstore / App store) for complete peace of mind and knowledge that your home is secure. You can check your home anytime, anywhere via the App, and you can receive alerts and notifications if the alarm is triggered.

In the unlikely event of server disconnection, the alarm system will continue to function (arm/disarm) using the supplied keypad accessory. Alarm event is notified by email, push notification event (iOS only) and SMS message. We offer 20 free SMS messages per account, after which additional SMS messages would be chargeable.
The Alarm Kit can be extended to include additional accessories including a Power Switch to turn home appliances on and off remotely (i.e. a lamp or radio), a PIR Video Camera to view a 10-second video of inside your home. You can even add a Yale Smart Lock to your front door; controlling them all from your Yale Alarm App.
Set-Up Requirement: For use in home with broadband connection. Homes with a router required with one freewired network port.
Image Capture

When the alarm system is armed, the PIR Camera will capture 3 alarm images upon movement detection. You can also manually request the PIR Camera to take a picture through CIE. The captured images will be transferred to ZigBee coordinator or CIE for user to view.

Warm Up Period

When the ZigBee network coordinator or system control panel enters arm mode, or when PIR Camera is put into Test Mode, the PIR Camera will warm up for 30 seconds. Do not trigger the PIR Camera during the 30-second warm up period. If the PIR Camera is under low battery or tamper opened condition, the Blue LED will light up during the warm up period.

Sleep Timer

When Jumper Switch 2 is set to Off, the PIR Camera has a "sleep time" of approximately 1 minute to conserve power. After transmitting for a detected movement, the PIR Camera will not retransmit for 1 minute. Any detected movement during this period will reset the sleep time to 1 minute. Continuous movement in front of the PIR Camera will therefore not exhaust the battery.

Battery and Low Battery Detection

The PIR Camera uses two 1.5V "AA" Lithium batteries in series connection as its power source. The batteries are pre-installed in the PIR Camera. To activate the batteries, pull out the battery insulator.
The PIR Camera features Low Battery Detection function. When the battery voltage is low, the PIR Camera will transmit Low Battery signal to the coordinator in ZigBee network. If movement is detected under Low Battery condition, the Blue LED will light up for 2 seconds.
When changing battery, after removing the old battery, press the Tamper Switch or the Function Button twice to fully discharge before inserting new batteries

Tamper Protection

The PIR Camera is protected by a tamper switch which is compressed when the cover-fixing screw is tightened. When the cover-fixing screw is loosened, the tamper switch will be activated and the PIR Camera will send a tamper open signal to the ZigBee network coordinator or system control panel to remind the user of the condition. If movement is detected when the tamper switch is open, the Blue LED will light up for 2 seconds.

PIR Camera will not detect the status of the tamper switch within 5 minutes of inserting battery.
If the Tamper Switch is triggered during this 5-minute non-detection period, the PIR Camera will transmit a tamper status signal to the ZigBee network coordinator or system control panel immediately after the 5-minute non-detection period.
When the tamper switch is compressed, Factory Reset of the PIR Camera is disabled.

Supervision

The PIR Camera will transmit a supervision signal to report its condition regularly according to user setting. The factory default interval is 30 minutes. The user can also press the Function Button once to transmit a supervision signal manually.

Test Mode

Test mode is for you to check the PIR camera's detection range (not shooting coverage).
To enter Test mode, press and hold the Function button over 3 seconds and release the button to enter the Test mode for 3 minutes.
The PIR camera will warm up for 30 seconds. Please do not trigger the Camera during this warming-up period.
After the warm-up period, you can trigger PIR camera to check IR detection range. If PIR camera is triggered, the Blue LED will light up for 2 seconds.
Wireless Technology: Zigbee technology
Spec: Pet Tolerant up to 60kg
Power: Batteries included
Part Number: EF-PC (852L ZBS)
Environmental Conditions: -10°C to 40°C, relative humidity 70% noncondensing for all units except the external Siren. Siren: -20°C to 50°C, relative humidity 95% noncondensing
Radio operational range: 30m in a typical domestic installation, range can vary depending on building construction, device positions and RF environment
Housings: ABS/polycarbonate
Alarm processing: Microprocessor controlled dual edge sequential pulse count with pulse length discrimination
Radio: 2.4GHz
Power supply: 2 x AA 1.5V alkaline batteries
Movement detection range: 110°